The lights are up (sort of), the last two base cabinets are in, and it's time to do the electrical.
I installed the lights, but the cords aren't yet fastened down. I'll be running new power up there so that the two banks of lights can be operated separately.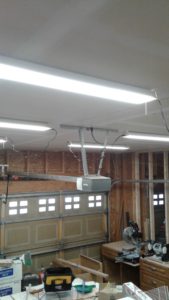 As you can see in this picture the last two base cabinets are installed with the chop saw between them. There is one more cabinet but it will be going over into the garage side next to the freezer for my wife's use.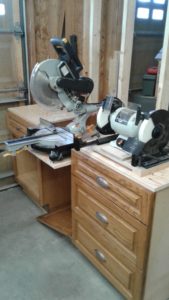 I do have to find a replacement hinge – one got broken during all the moving about.
I used bolts, nuts, and washers to level out the chop saw.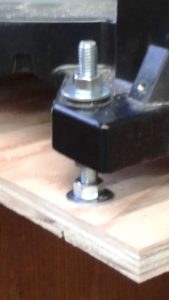 It was much easier than fiddling around with the shelf – and more accurate as well.
So it's getting close to the time for electrical work, but I'll be using an extension cord for a bit yet s the shed just came in and I need to get that built before the end of the month or the HOA will get annoyed :)